JOMA OPENS ITS FIRST BRAND STORE IN BULGARIA
16. Jún 2017
It is located in a strategic area of ​​Sofia, capital of the country.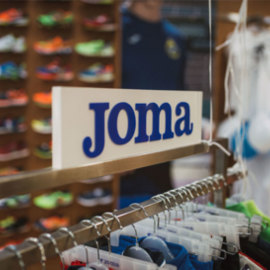 The presence of Joma in Europe has increased in recent years with the opening of new Brand Stores . The latest inauguration took place in Bulgaria , where the Spanish brand has a Brand Stores located in Sofia , the capital of the country.
The new shop is located in a strategic area on Vitosha Boulevard, a very central neighborhood of the Bulgarian capital where users will be able to find a wide variety of Joma products . It emphasizes the clothes of equipment for sports like soccer , futsal , basketball or handball among others, and products related to the tennis or running , sports that have grown exponentially in the last years. In addition, technical and casual footwear occupies a prominent place in this new Brand Store of the Spanish brand.
Joma sponsors the National Soccer Team in Bulgaria , as well as the Olympic Committee, two of the most important sports institutions in the country. In this way, Joma has been located in Bulgaria as one of the most outstanding brands of the country.