JOMA BECOMES THE TECHNICAL SPONSOR OF THE BANCO SANTANDER TEST 20 KM FROM BILBAO
16. Jún 2017
The 4,000 test runners will wear with the brand's technical t-shirts.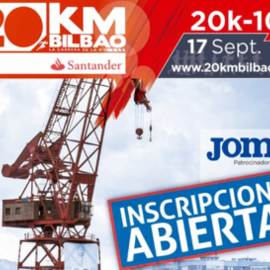 Joma and the 20Km of Bilbao Banco Santander join forces for the second edition of this event, to be held on 17 September. The Spanish leading company in the sports market becomes the technical sponsor of this race of 20 and 10 km in which 4,000 runners will cross the finish in the Joma jersey .
Much more than a career
But these 2 races will not be the only activities of the 20 km of Bilbao : from 15 to 17 September, the Ría de la ciudad will become the main artery of a holiday weekend around sport, gastronomy and health For all audiences.
This weekend, Joma Running Talks , a series of lectures on training, nutrition, sports equipment and inspiring stories from sport that can serve as a boost in daily life, will also be celebrated this weekend. The small and small of the house can enjoy various activities, children's races (for ages between 4 and 12 years), music concert by the hand of Rock & Kids to enjoy the rock of life and dance all together; Karts, fishing courses and activities in the estuary such as canoes or paddle.
The best music will put the icing on the cake of this fantastic weekend, with Absolute Bowie, considered in the United Kingdom the best band tribute to the missing British artist and the winning group of the Contest of Bands summoned by the race.
And also the best gastronomy to complete an ideal weekend to close the summer.